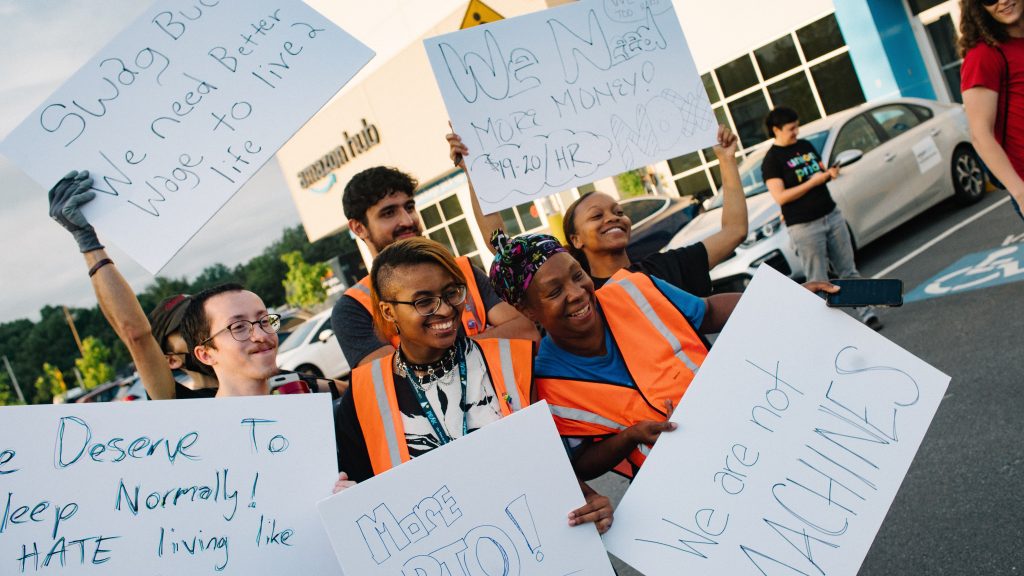 July 13th, 2022 – As the clock struck 7:00 AM early Wednesday morning, 15 Amazon warehouse workers walked out of the DTG5 Amazon fulfillment center in Doraville, Georgia just halfway through their Prime Day shift. Workers exited the facility in protest of management disregarding a petition signed by 60 warehouse employees demanding a $3 wage increase, more paid time off (PTO), and extended break time.
As workers gathered in the parking lot, they were met by excited supporters from Atlanta DSA, Unite Here, and Atlanta Starbucks Workers United—who recently won their own union victories at the Ansley Mall and Howell Mill Starbucks locations. Music blared as workers chanted and made signs calling for fair pay and dignity at work, while supporters set up breakfast and coffee on a folding table out front of the building.
Meanwhile, management—unsuccessful in their pleas to beckon workers back inside—scrambled to reassign roles on the floor to fulfill the growing backlog of Prime Day orders.
Workers spoke openly about their workplace grievances, both personal and systemic, that inspired the walkout. Saara, a warehouse associate who's worked at Amazon for ten months, said she walked out because she believes workers deserve more paid time off. "I want more time with my family," she said, stating that management's current leave policy does not allow sufficient time for workers to raise their own children.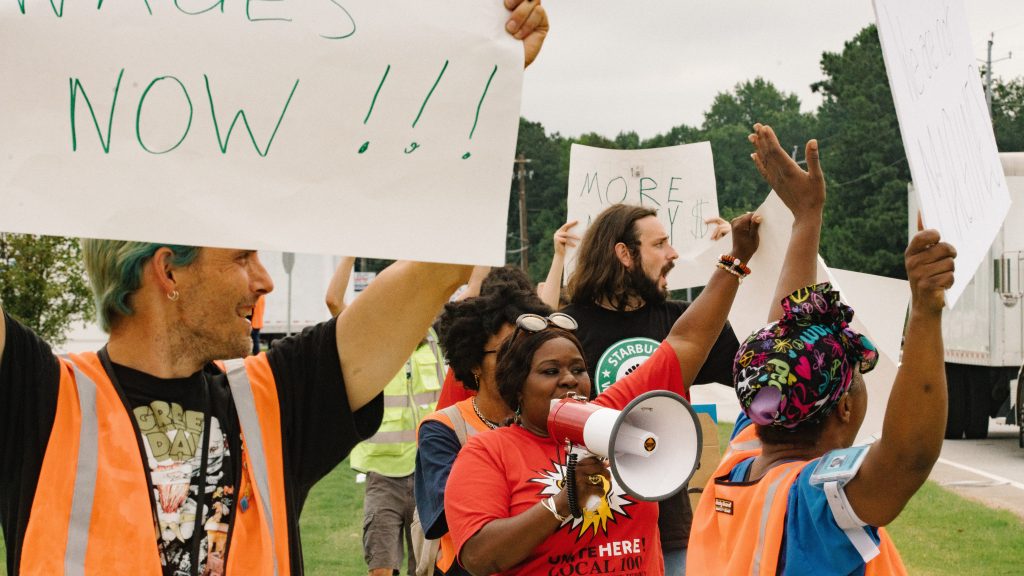 Another worker, Atlas, said "I can't pay my rent, I can't pay my bills. I am here 80% of the week scrambling to make ends meet and about to get a second job on top of that. We all know Amazon can afford to give us what we're asking for." Since the COVID pandemic began, consumer prices have increased 15% while Amazon's corporate assets have grown by $190 billion (86%).
Others cited long, ten-hour shifts⁠, often during night-time hours⁠, and difficulty obtaining sick leave, as motivation to organize. José recalled how after hurting his ankle on the job, Amazon refused to extend his PTO, even though his injury prevented him from working a normal shift.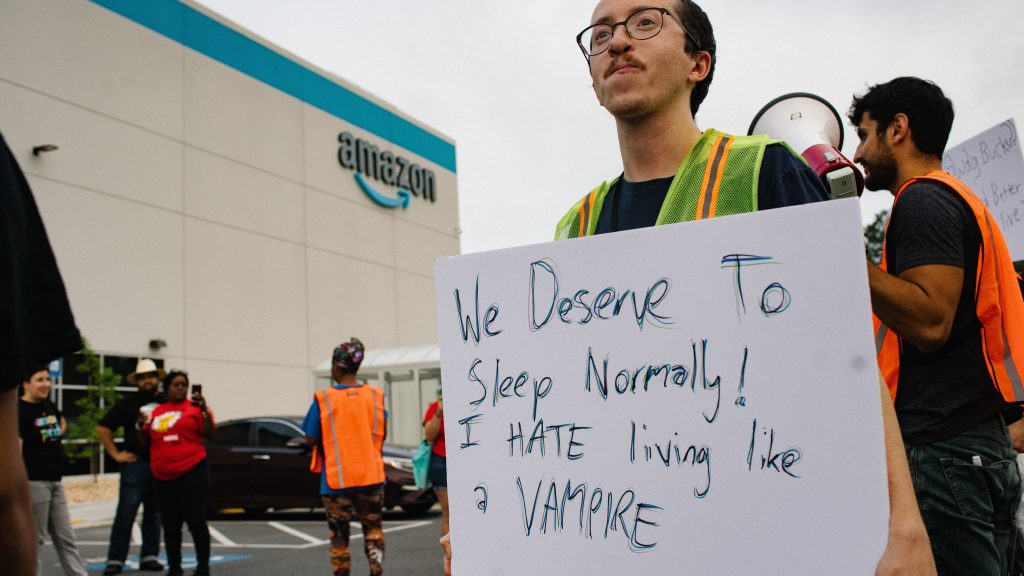 Wednesday's walkout took place not in isolation, but within a surge of new workplace organizing efforts led by the workers who've born the brunt of the COVID-19 pandemic, in the absence of a social safety net or basic workplace protections. Increasingly, we're seeing workers at Starbucks, Amazon, and other corporate giants stand up to demand a seat at the table, fair pay and safer working conditions. According to the National Labor Relations Board (NLRB), the number of union election petitions filed increased by 57% between 2021 and 2022 alone.
Just this year, a warehouse in Staten Island, New York became the first officially unionized Amazon location recognized by the NLRB. And despite Amazon's endless funding for aggressive union-busting campaigns, workers in warehouses across the country, including Chicago and DC, have organized similar walkouts as a way to build militant strength on the shop floor from the bottom-up.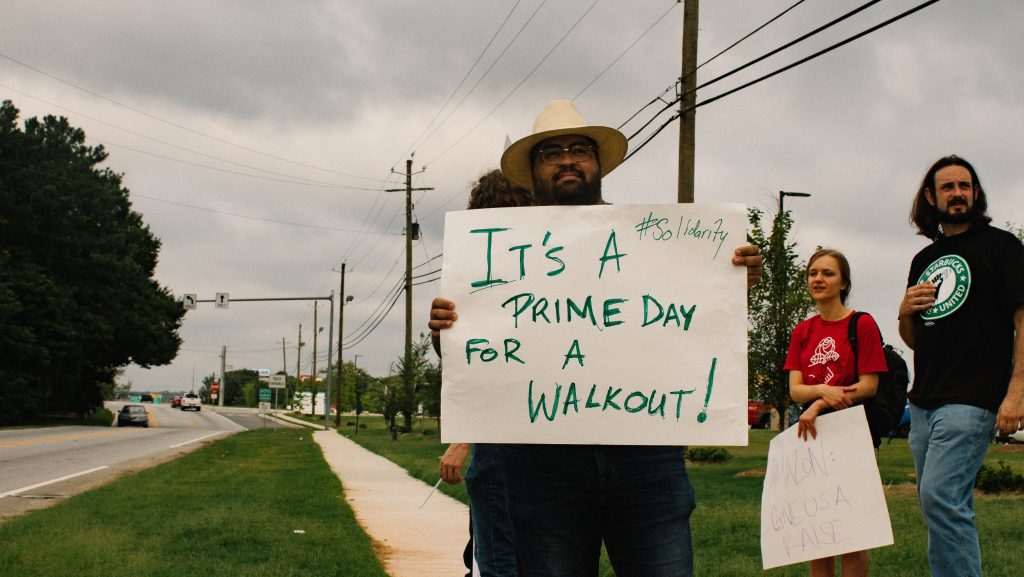 Nick, a Starbucks Workers United organizer who supported the walkout, said that following his store's recent union victory, he finds it important that workers fight for one another. "To be in a union is to be part of something that's bigger than yourself and bigger than your store," he said. "Seeing workers stand up for themselves and realizing that their power lies in working together to get what we need is important. It's something that we lost for a while, but we're able to get it back."
Going forward, the DTG5 workers plan to continue organizing even if management refuses to meet their demands for increased wages. However, as worker organizer Patricio noted, "[Amazon's] whole business model is predicated on low labor costs, stretching us as thin as possible, and overworking us in unsafe conditions."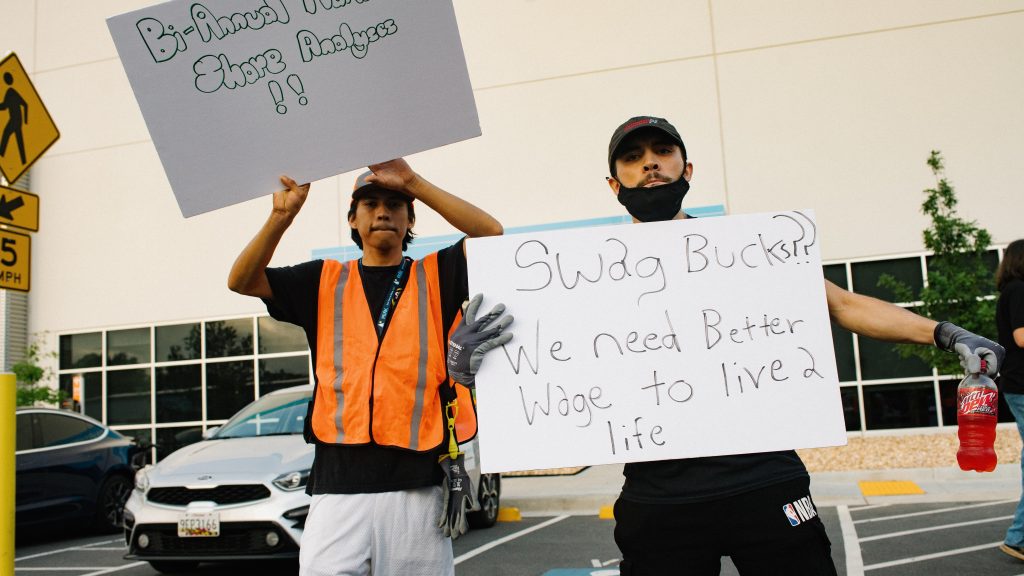 Workers noted that management⁠, wary of organizing efforts, attempted to de-escalate on various occasions by offering small concessions like adding televisions and Jenga to the break room, in addition to a points program known as "Swag Bucks" which workers can exchange for Amazon merch. "They'll do anything but pay us," said Saara, noting that Amazon seemed willing to offer anything lieu of real material improvements to workers' conditions or quality of life.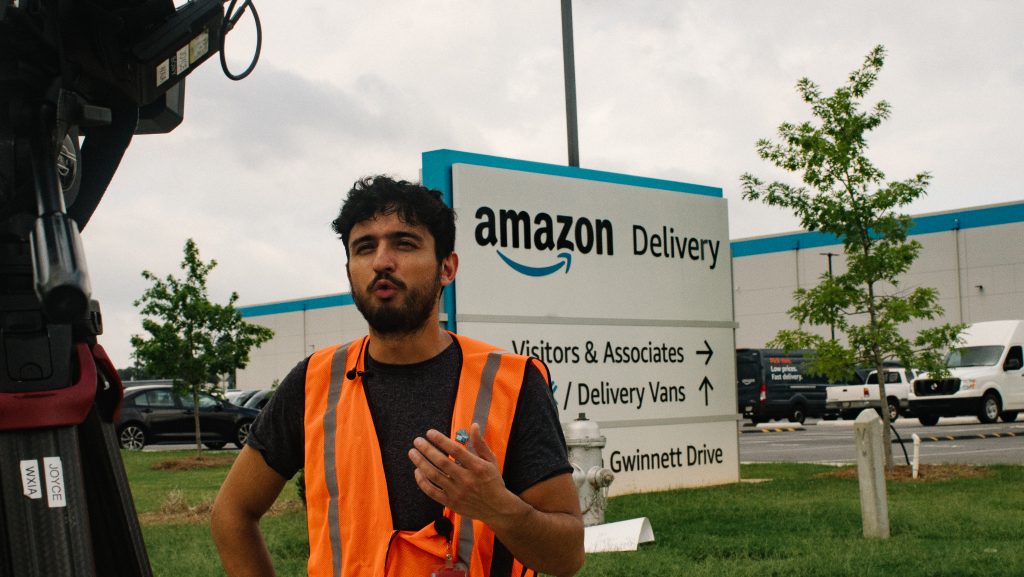 Despite the challenges of standing up against one of the world's richest and most exploitative companies, the workers at DTG5 understand that the real power lies in their hands. "Workers make the world run," said Patricio. "We're the ones who make Amazon run every day. We deliver the paper towels, and the diapers, and the water bottles and food to customers on a daily basis. So, we should be compensated humanely and fairly. We should be paid a wage that speaks more closely to our value as human beings."
As socialists, we know that a militant and organized labor movement is key to building a society and economy run by and for working people. Each and every working person has a role to play in our fight to win democracy at work, universal health coverage, and a Green New Deal. So help us hit the capitalists where it hurts! Sign up to join DSA or email labor@atldsa.org to get involved in our labor organizing and solidarity efforts. Check out Emergency Workplace Organizing to get support organizing your own workplace.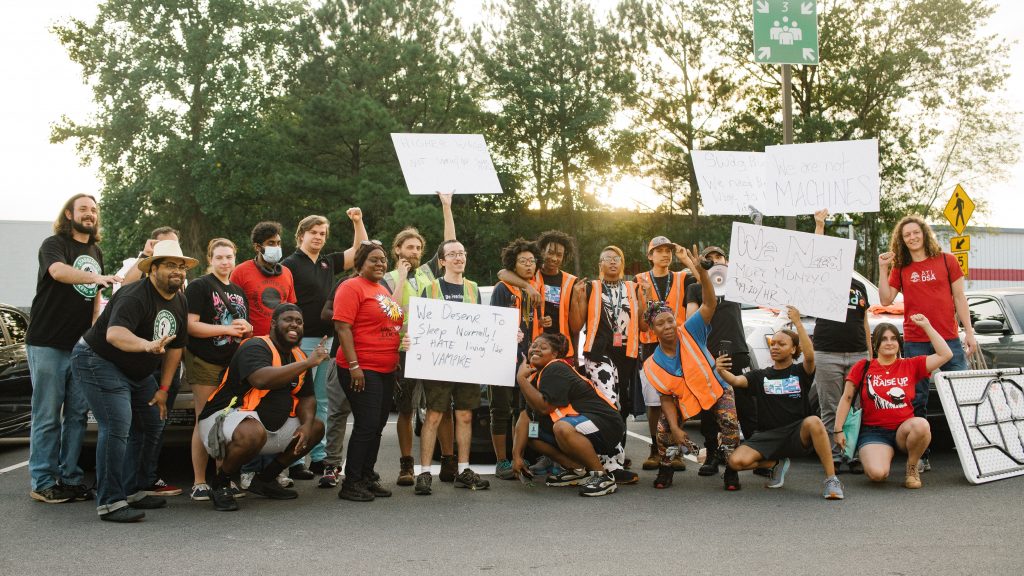 Photo credits: Brandon Mishawn.