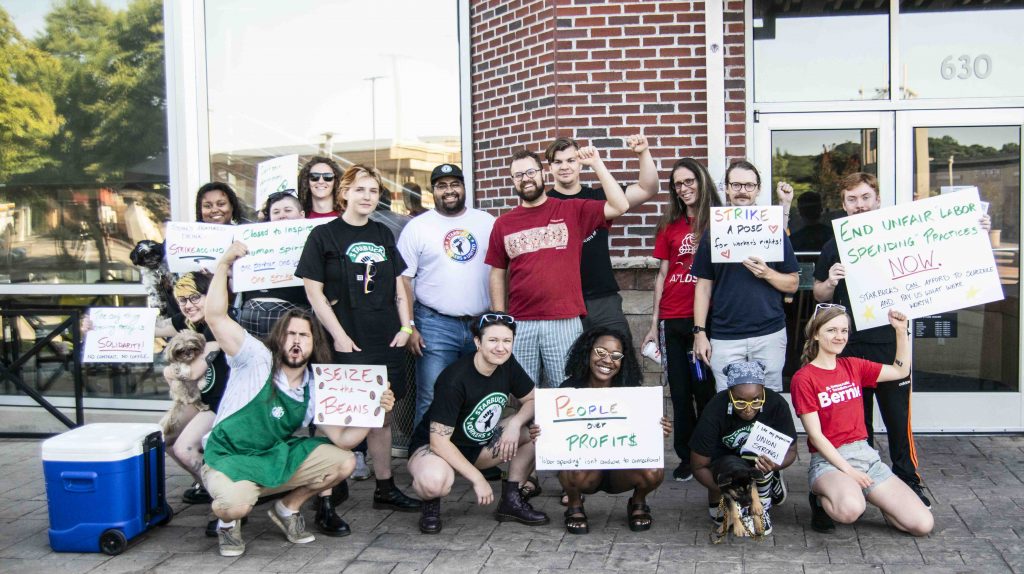 July 17, 2022 – Barely one month after winning their union election, Starbucks workers at Howell Mill are still fighting to have their voices heard by corporate. Early Sunday morning, partners went on strike against management's refusal to respond to bargaining requests, retaliation in the form of cut hours, and unfair working conditions.
Despite Starbucks making record-high profits in its first two fiscal quarters of 2022, partners find themselves unable to schedule the hours they were promised at hiring.
"When I was hired, I was told I could easily get the amount of hours I needed," said Aleyah Riggs, Starbucks employee. "But in order to even get close to that number, I have to ask my coworkers to give up shifts and work hours that conflict with sleep or other obligations. If they can't even pay me to work the hours I was hired for, where is the money we make for them going?"
Management's limits on workers' hours not only obstruct their ability to earn a living wage, but also their right to health care. Unlike many nations which provide working people with universal healthcare, health insurance for most Americans is tied to employment. At Starbucks, eligibility for promised benefits, including trans-inclusive health insurance, are contingent on working 20 hours a week or more.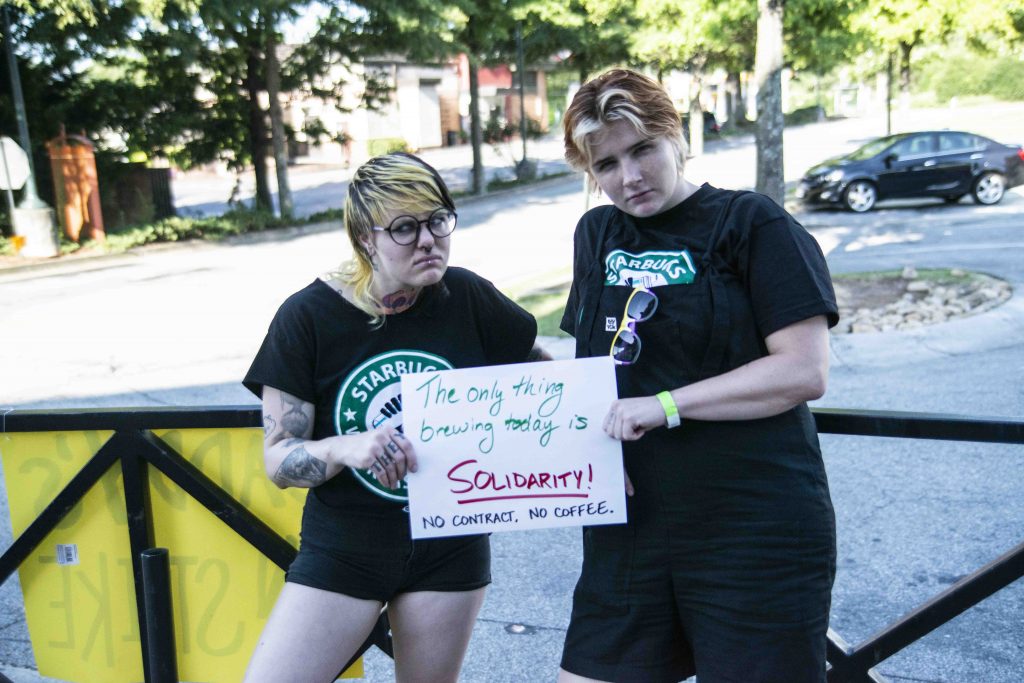 "Starbucks flaunts its benefits, like trans-inclusive health insurance, to attract new partners," said Taylor Johns. "As a trans person, this is a rare find, especially in this industry. However, I have to worry every week if the store will get enough hours for me to even keep that very essential benefit. If I'm offered benefits as a part-time employee, shouldn't I be able to receive that benefit?"
Although Starbucks calls their workers "partners," management does not treat them as equals. More often than not, upper management reacts with hostility when partners present concerns regarding their treatment at work.
"It feels that management perceived our unionization as a personal attack on their leadership as opposed to an attempt to improve conditions at our store," said Lava Johnson.
"It is at the point where partners make a point to avoid management for fear of retaliation or verbal aggression," said Snow Rindfleisch. "Management historically responds to concerns with verbal abuse, deflection of issues, personal attacks, and workplace retaliation."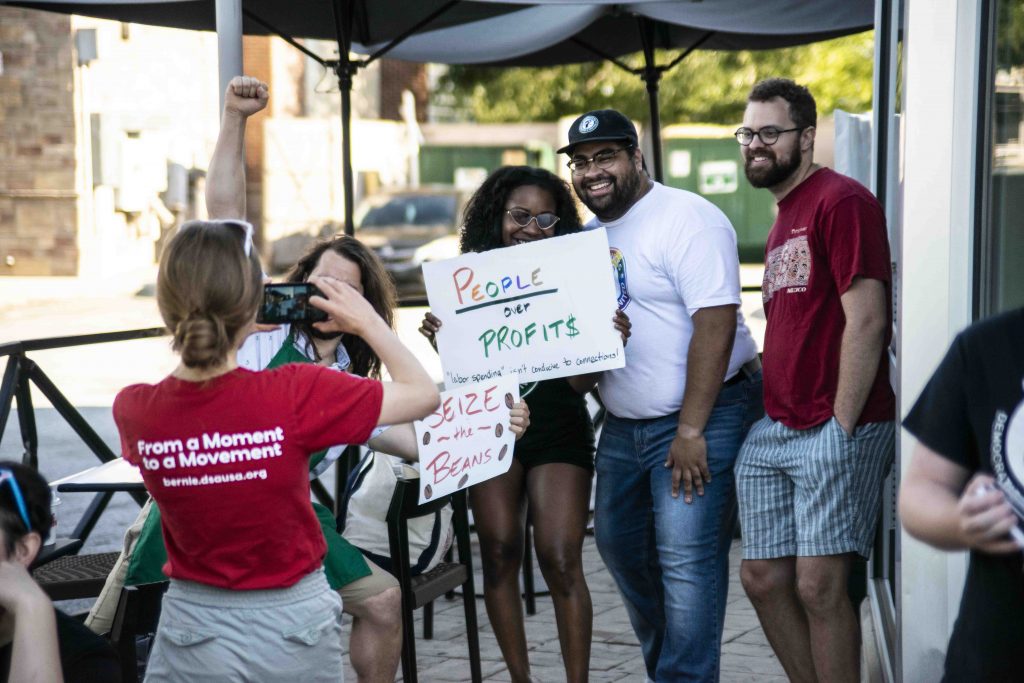 Partners also report that management has retaliated by disproportionately disciplining pro-union partners.
"After our union vote, I was hoping to be able to work with Starbucks on our workplace issues," said Morgan Biagioni. "Instead, I witnessed the unequal application of discipline between pro-union and anti-union partners, such as pro-union partners receiving discipline for infractions for which anti-union workers saw no repercussions."
Despite the fact that many of these grievances—increased hours, health care benefits, respect on the job—could be addressed through a union bargaining process, management has refused to answer partners' requests to begin negotiations. According to Page Smith, a shift supervisor at the Howell Mill Store, that request was sent on July 11, 2022 — about a month after 90% of the store's workers voted pro-union.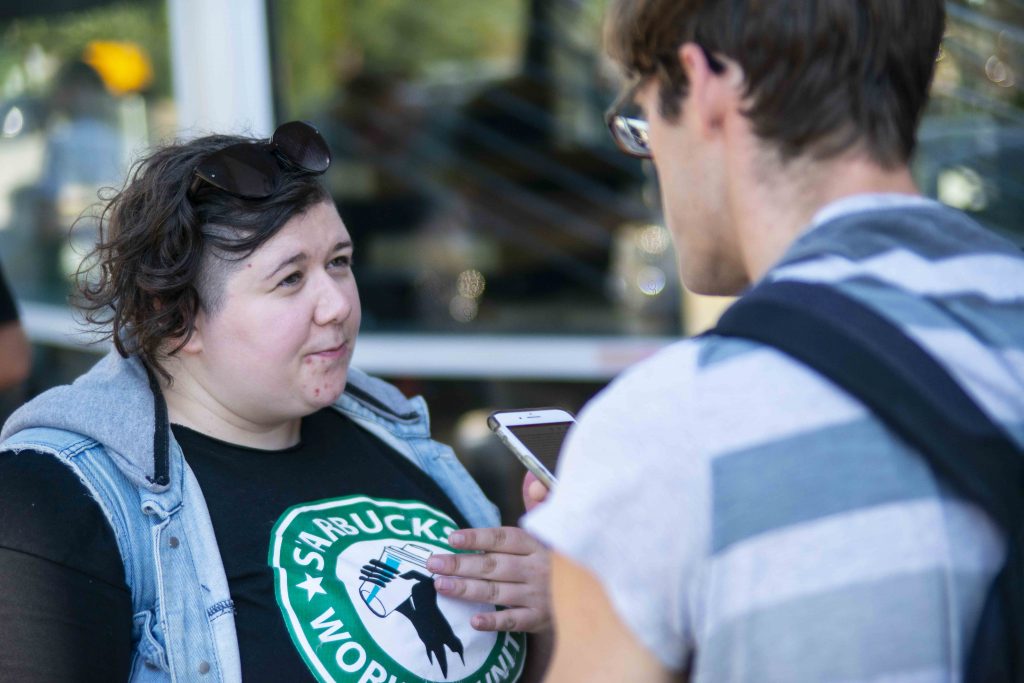 "It's frustrating that, at every step of the way, Starbucks has insisted that we don't need a union to communicate with them on workplace issues, and yet even with a union, Starbucks refuses to work with us," said Page. "Starbucks has unfortunately left us no choice but to withhold our labor as a demonstration of our collective power."
Workers at Howell Mill are well-aware that despite their 10-1 union victory, the fight isn't over. All over the country, from Boston to Seattle to our very own Augusta, GA, unionized stores are striking in response to Starbucks corporate's refusal to bargain. It's going to take a mass movement to take on giants like Starbucks, and it's up to us as working people to make that happen!
Want to support Starbucks Workers United? Here's how:
Photos by Sean Cassidy