Last Monday Jan. 17th, Atlanta DSA members gathered to celebrate the life and legacy of the Reverend Doctor Martin Luther King Jr., an iconic leader of the mass movement for civil rights in the 1950s and 60s. King was a radical, working tirelessly as a community organizer for decades– leading boycotts, marches, and campaigns to win desegregation and voting rights for millions of Black Americans. King was also an adamant advocate of labor rights, and spoke many times on the interconnectedness between the evils of capitalism and other forms of exploitation. 
In a report to SCLC Staff in May 1967, he said, "We must recognize that we can't solve our problem now until there is a radical redistribution of economic and political power…. This means a revolution of values and other things. We must see now that the evils of racism, economic exploitation, and militarism are all tied together… you can't really get rid of one without getting rid of the others… the whole structure of American life must be changed."
Teamsters Rally Demanding MLK Day as a Paid Holiday
In celebration of his legacy, members and supporters of Teamsters 728 gathered bright and early Monday morning at the Atlanta UPS Smarthub to demand that UPS make MLK Day a paid holiday for employees across the country.
Representatives of the local spoke on their demands, noting that King lost his life fighting for labor rights in 1968 while supporting striking sanitation workers in Memphis, Tennessee. They also celebrated the local's growth by 2,000 members over the last two years – making the local 12,000 members strong today – in addition to their multiple successful campaigns to organize new shops.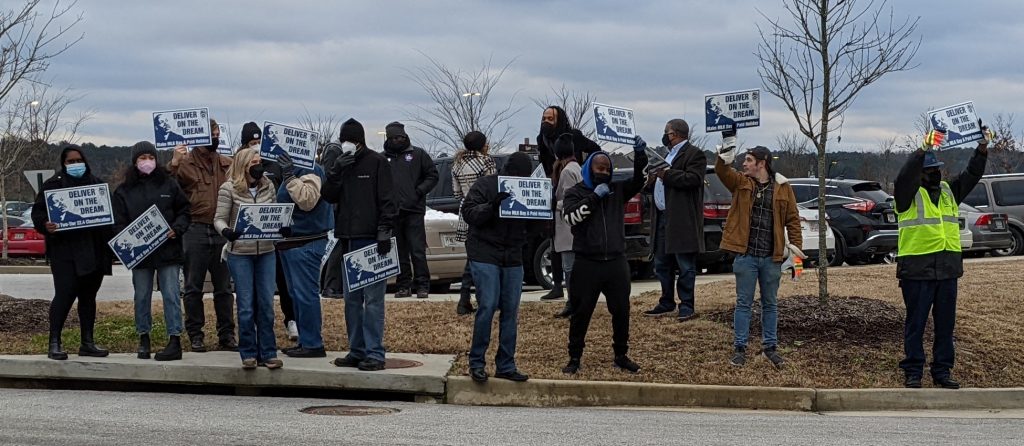 We also spoke with Donny, a UPS worker and union steward present at the rally, who explained that in addition to the paid holiday, the union was demanding an end to the two-tier 22.4 job classification system for drivers. This two-tier system underpays newer UPS drivers relative to other workers performing the same jobs–preventing these drivers from "ever reaching a livable wage working for a billion dollar company," according to Donny. Going forward, local stewards and members are gearing up to fight for a better contract with UPS when the next contract vote comes to a vote in 2023.
MLK Day March with Organized Labor
Later that day, Atlanta DSA joined the annual MLK Commemorative March and Rally in downtown Atlanta, organized by the MLK March Committee. Starting a little after 1:30 PM at the intersection of Peachtree and Baker Street, DSA members marched alongside the march's labor contingent, including the Atlanta-North Georgia Labor Council, CWA 3204, IBEW 613, Teamsters 728, ATU 732, and Georgia Stand Up.
In recent years, the labor movement has taken great strides to build worker power, including successful local strikes by workers at Nabisco and John Deere in 2021. To keep this momentum going, one of Atlanta DSA's recent priorities was campaigning to Pass the PRO Act—a suite of labor reforms which would remove many of the barriers that make it harder for workers to organize their workplaces, especially in right-to-work states like Georgia.
A powerful union movement is essential to building working-class power. For this reason, DSA works both national and locally to support organized labor by conducting organizer trainings, supporting direct actions and rallies, and joining striking workers on the picket line during contract fights to win higher wages, better healthcare, and dignity on the job.
Want to get involved in DSA's labor work? Sign up to organize your workplace at workerorganizing.org/support or email our labor committee at labor@atldsa.org. Not a DSA member yet? Join us atldsa.org/join.
Red Clay Comrade is the publication of Atlanta DSA. Keep up with our work by subscribing at RedClayComrade.org/subscribe.