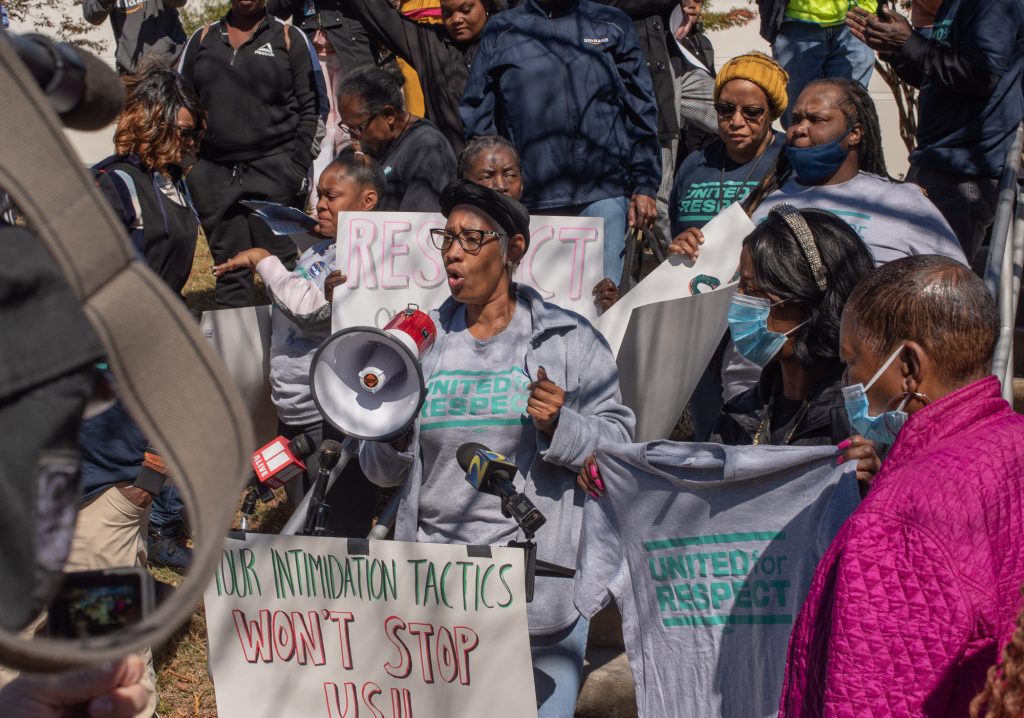 Last week, Wednesday Oct 19th, Amazon workers at the ATL6 warehouse in East Point held a press conference in response to retaliatory firings from management and poor working conditions at the facility. The firings occurred following a months-long organizing campaign, in which associates presented a petition to management signed by 300 workers demanding a $5 raise to $18/hr.
Outside the facility, workers assembled with community groups and union allies, including Atlanta DSA, Teamsters, IUPAT, 9to5, and United For Respect – which organized the event. Speakers gathered at a podium, flocked by photographers and local press, before a drawn poster reading "Your intimidation tactics won't stop us! We're fired up!"
Throughout the afternoon, ATL6 workers spoke on the poor conditions they faced at the warehouse, ranging from low pay and rough hours, to sanitation and safety. Workers cited multiple sanitation problems at the facility, including unusable restrooms, cockroach infestations, and inadequate accommodations for working parents and folks with disabilities.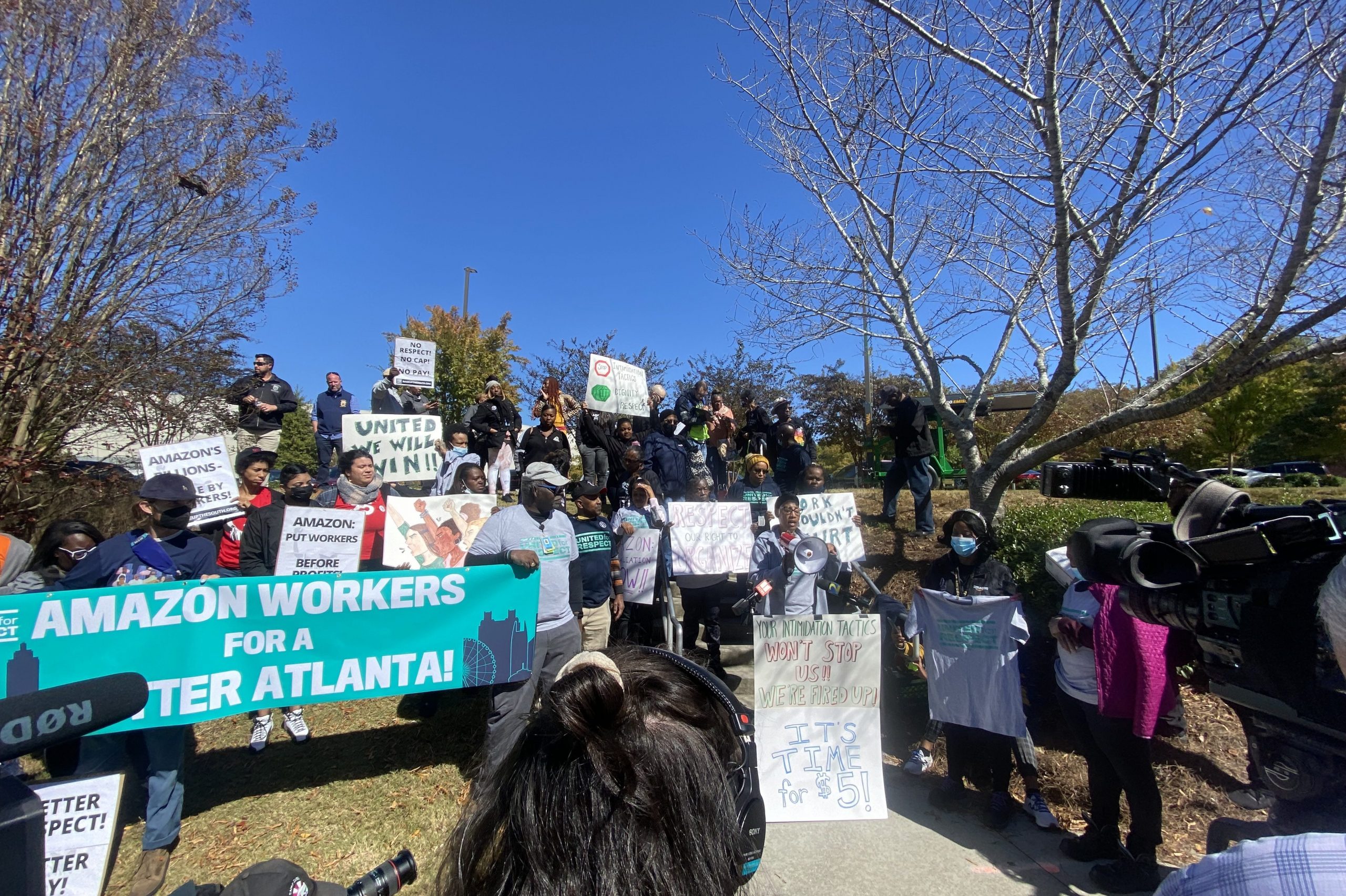 Former ATL 6 employee, Brandon Callaway, discussed his firing following the petition drop. Callaway spoke about his difficulties working at Amazon following a kidney transplant, during which time the company did not allow him sufficient medical leave for followup treatments. The father of a 3-year-old, he also vocalized the anxieties he's faced as a working parent pressured with the dual time constraints of daycare late fees and Amazon's inflexible scheduling. "That's why I came together with my coworkers to fight for better working conditions," Callaway said. "I shouldn't have to worry about losing my job because of my disability or having to take care of my family."
Another worker, Cynthia Winters, blasted Amazon for its negligence towards workers' safety on the job. Winters cited workers having passed out or died because of overheating in the warehouse, paired with a lack of adequate drinking water. "We have roaches in the ice machine, roaches in the coffee machine," she said, rattling off a list of grievances around workplace safety.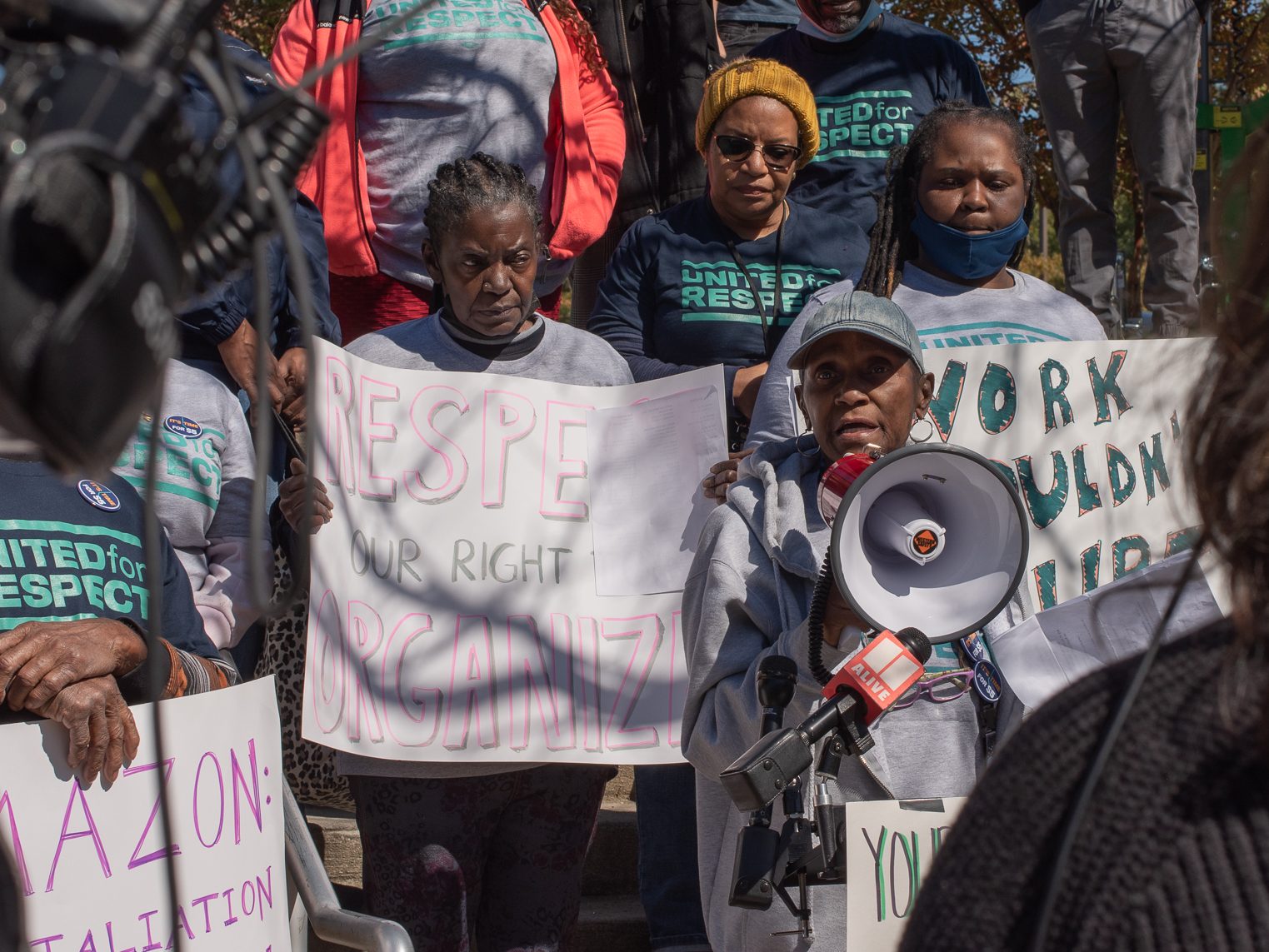 At the same time as workers are forced to cope with unhygienic facilities, they're still pressured to work at an inhumane pace. "People die in here trying to get this work out," said Winters. "It's a numbers game. Get the numbers out, get the numbers out! Push, push, push!"  Winters also criticized a recent company-wide $1/hr raise for warehouse workers, adding, "Where can we afford to live with just a $1 raise?"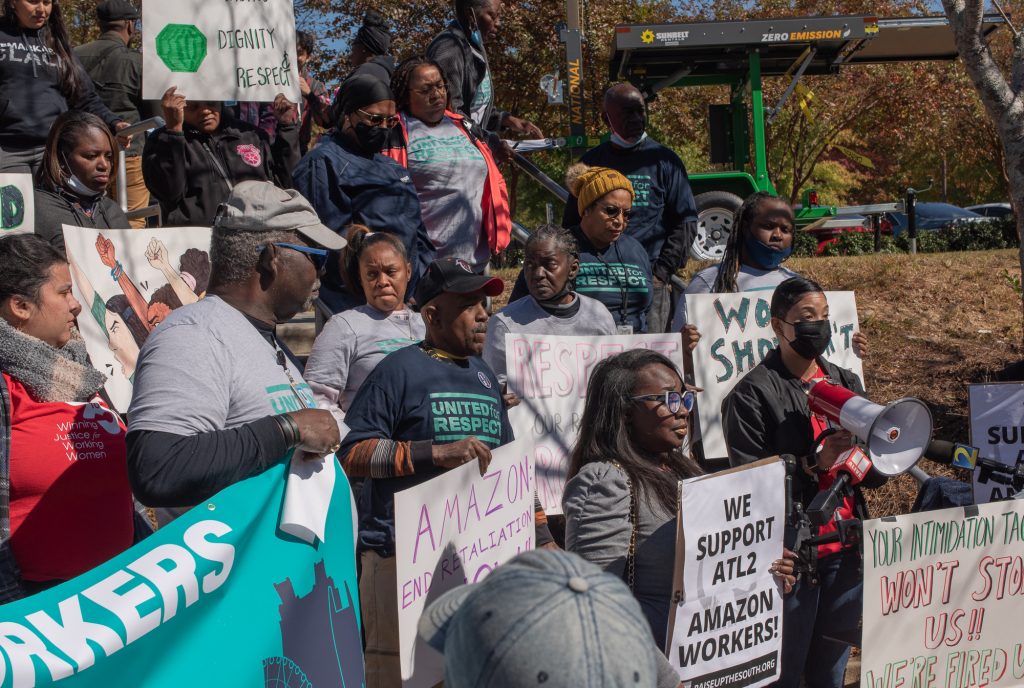 The workers at ATL6 are currently filing unfair labor practices against the company through the NLRB for the retaliatory firings. In terms of next steps, workers say they're determined to stay in the fight until their demands are met. "We should not have to leave our job in order to get something done," said Winters. "That is why we're coming together to let them know we're not taking it anymore."
To show solidarity with the ATL6 workers' organizing campaign, folks can sign the their petition here, demanding that the facility site manager listen to Amazon associates!
Photos by Ken L.