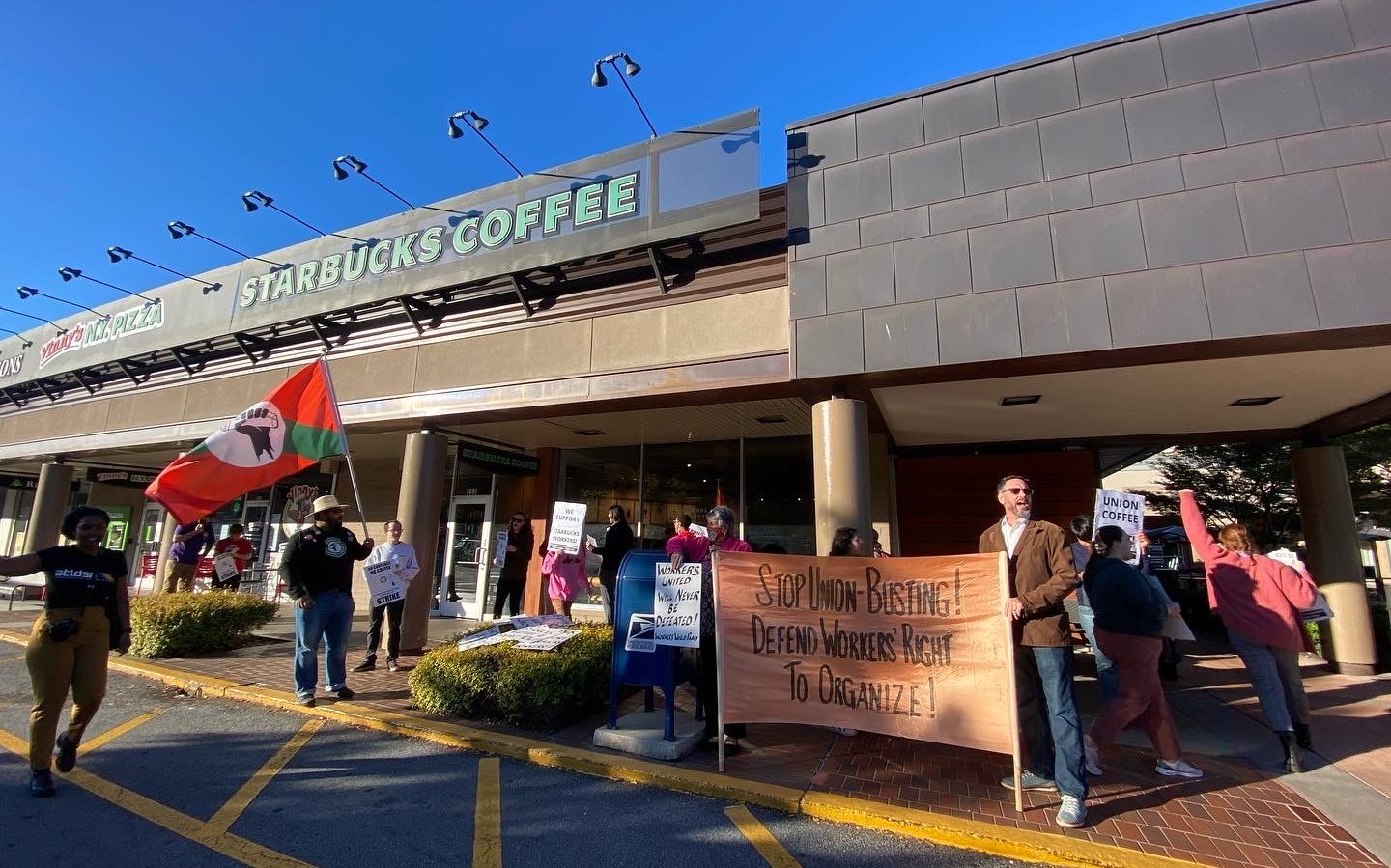 Since their election victory on June 22, unionized workers at the Ansley Mall Starbucks in Atlanta are still waiting on Starbucks corporate to meet them at the bargaining table. Despite over 200 Starbucks locations voting to unionize across the country, including two stores here in Atlanta, Starbucks has refused to engage in good faith to reach a bargaining agreement with Starbucks partners. As of last week, only 3 of the 240 unionized stores have begun bargaining sessions with corporate.
To escalate their demands to begin negotiations, unionized stores have launched strikes, lasting a day or more, to demonstrate to management and corporate how much their labor is really worth. On National Coffee Day last Thursday, partners at the Ansley Mall Starbucks walked out at the start of their 5:30 AM shift, in protest of Starbucks's refusal to bargain, in addition to a recent rescinding of COVID-19 benefits which the company introduced at the start of the pandemic.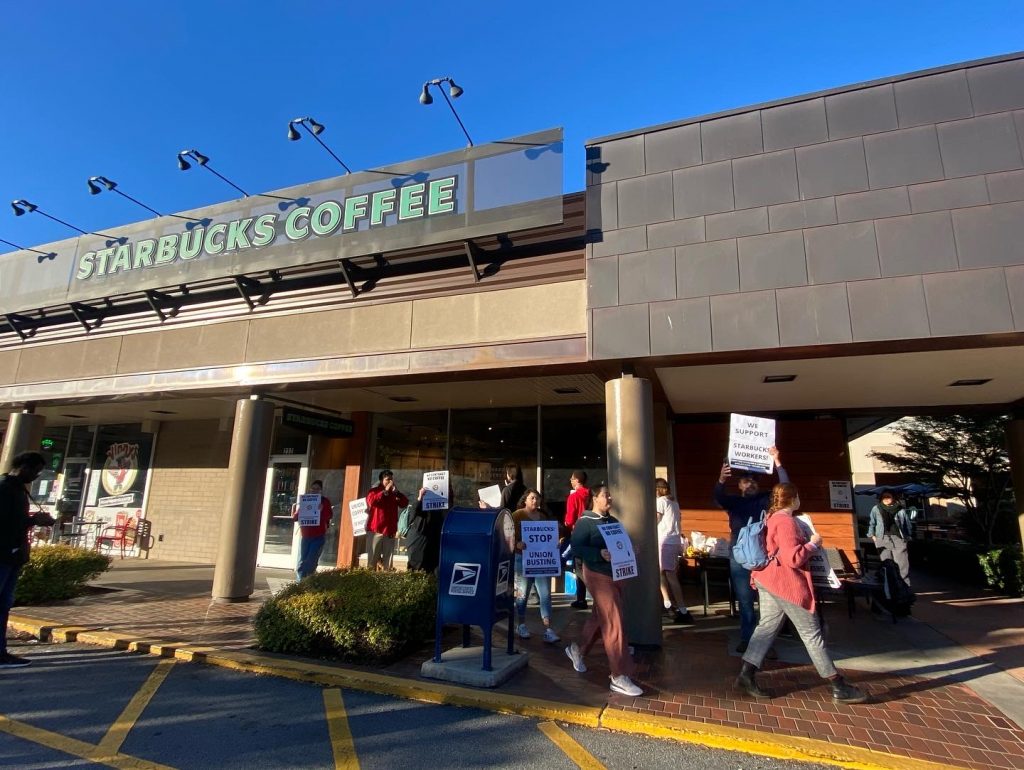 Starbucks partners, DSA, and community supporters convened outside the store with coffee and donuts, holding picket signs and chanting "No contract, no coffee!" from early morning until late that afternoon.
"We want a contract," said Nick, a Starbucks partner on the picket line outside the store. "We still haven't gotten any word from Starbucks corporate yet, and we want to make sure we have our voices heard and that we get our contract negotiations under way."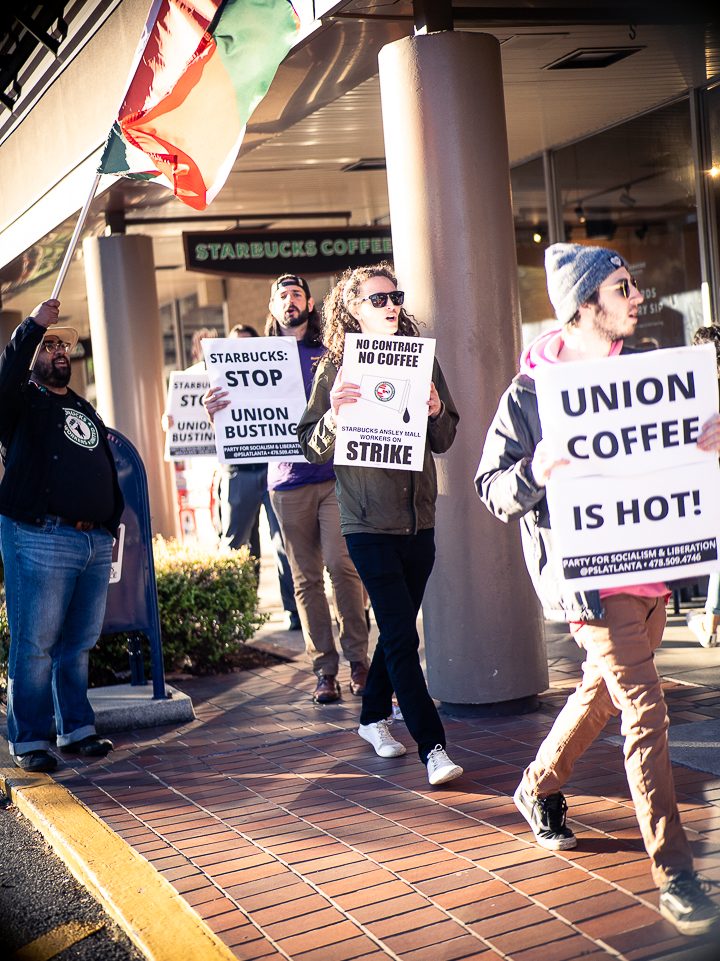 Another partner of 3 ½ years said, "We are striking because we want better healthcare, wages, and working conditions. Since the start of COVID, our wages haven't increased, our benefits haven't improved, and the few benefits they have given us are about to be taken away. We're tired of it and we want to bring awareness to how they're being treated."
Partners also noted frequent understaffing of stores, which puts an extra load on workers during busy days. "I have been on the floor by myself for half an hour before and I was not supported at all," said one worker. "It's not fair to people here trying to make a living."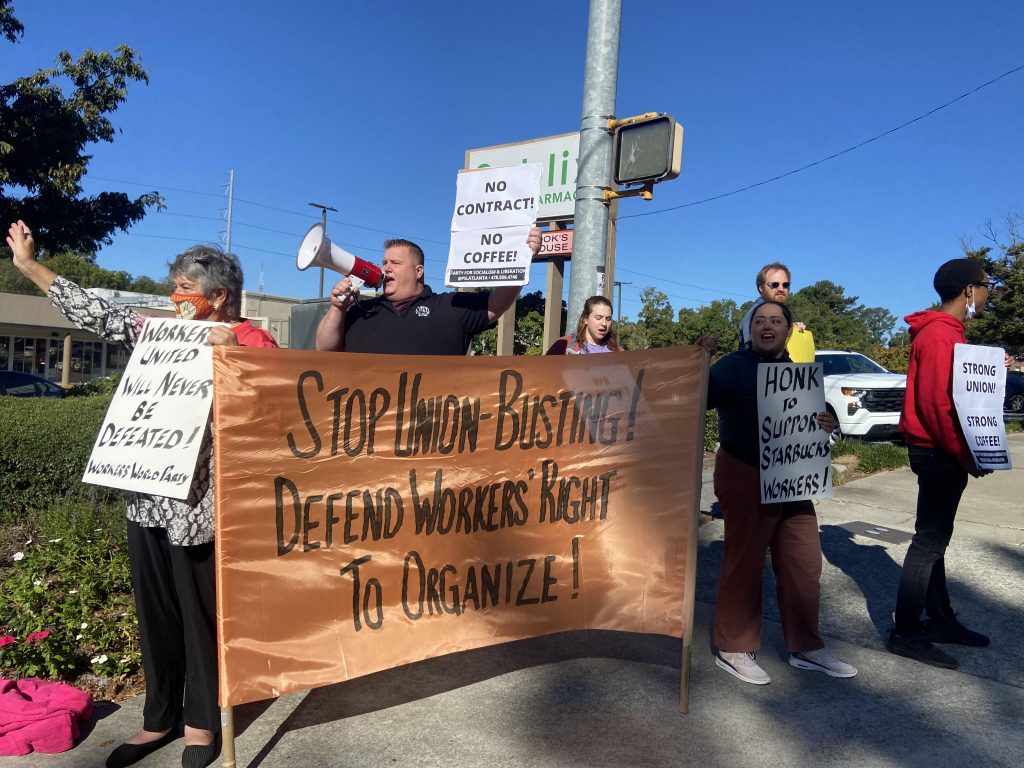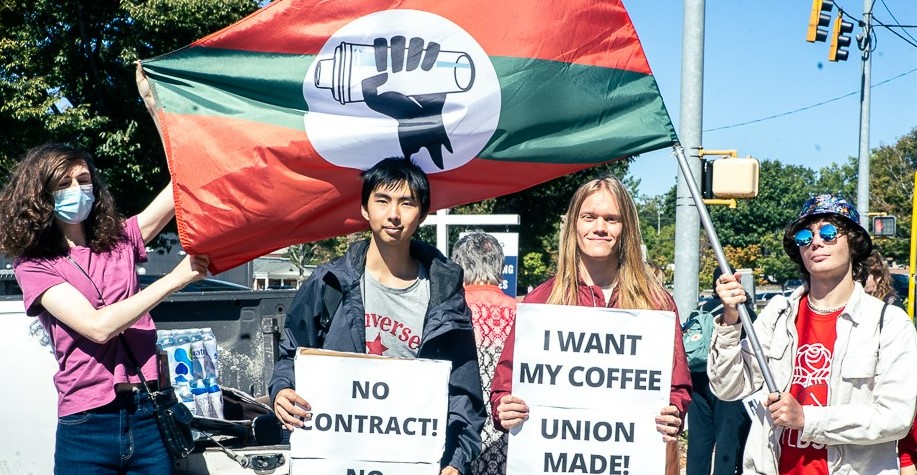 Over the course of the day, Starbucks partners and supporters were joined by union supporters, including the Atlanta-North Georgia Labor Council, United Campus Workers, Unite Here, and the International Painters Union (IUPAT). Customers who encountered the picket line showed solidarity by refusing to enter the store, wishing workers luck on their campaign to pressure corporate. Management closed the store down by noon, after attempting to run the store themselves, with the help of a scab.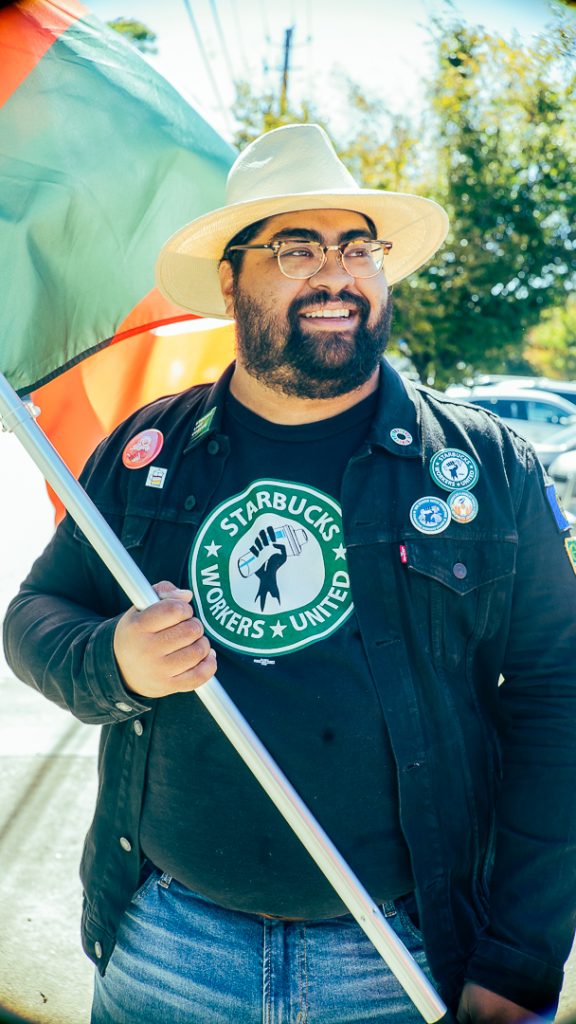 While Ansley Mall and other stores across the country wait for their negotiations to begin, Starbucks Workers United has begun unveiling a set of non-economic proposals to present to corporate, based on input from partners across the country. The proposals aim to improve the day-to-day conditions of Starbucks partners, ranging in topic from hours and scheduling, to benefits and COVID-19 leave, to dress code and handling of sexual harassment in the workplace.
Despite frustration with corporate, partners at Ansley Mall remain confident in their decision to unionize. "It's important to form a union as a way to show solidarity with each other and to make sure we're able to live, and earn decent wages, benefits, and working conditions," said one partner. "Things are tough right now, but we're gonna get through it. We're making a better future for future workers."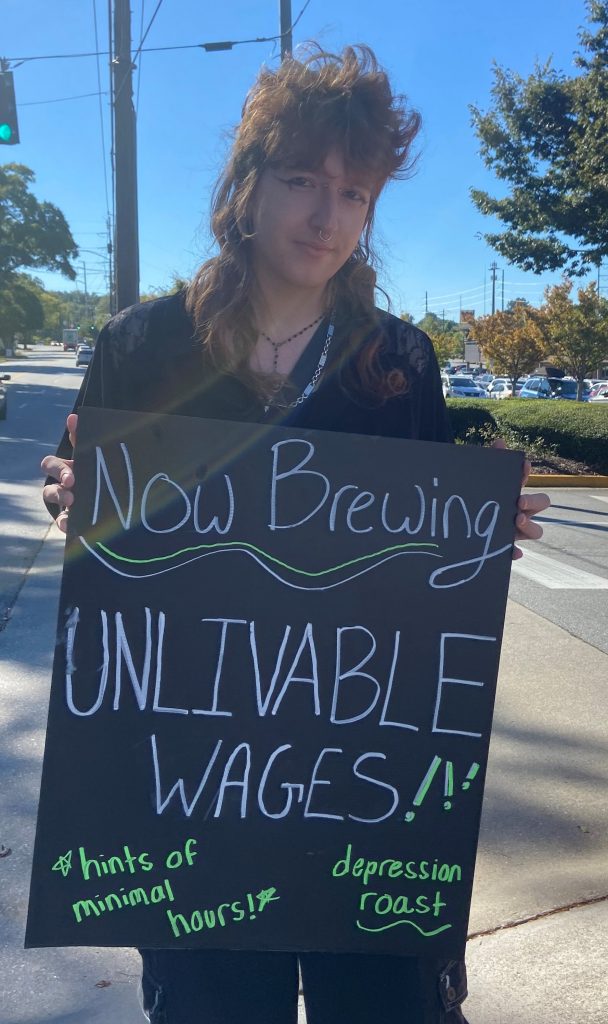 Partners at Ansley Mall said they encouraged Starbucks workers at other stores to join in the fight to unionize. "Unions give you a chance to stand up for yourself and your rights," said Nick. "Definitely unionize your workplace."
Another worker, Amanda, agreed, saying, "You're not alone, we're here to support you. There are so many people here that are here to support you. It's worth the fight."
To directly support Atlanta Starbucks workers facing retaliation, folks can donates to the workers' GoFundMe, and another for the Ansley Mall store specifically. Learn more about Atlanta DSA's campaign support unionizing Starbucks workers at atldsa.org/starbucks. Starbucks workers looking to unionize can also check out https://sbworkersunited.org/