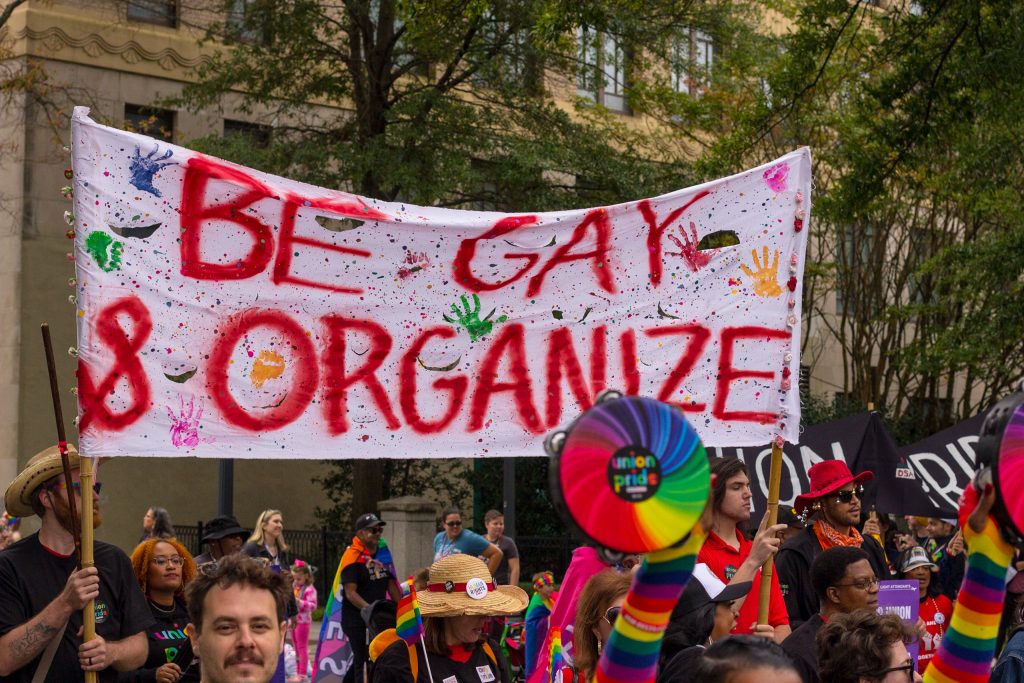 Every day, billions of working people on Earth toil to maintain a capitalist economy they never asked for. While technological advances and general prosperity have spread beyond the borders of the most advanced countries, the "golden age" of capitalism is over. For the majority of people on the planet, including in the United States, life is getting harder. Capitalism is working overtime to preserve the power and profits of the wealthy at the expense of the rest of us.
In light of this, DSA's goal is to fight for all working people's ability to democratically control their own lives in all areas of society and the economy. To achieve that goal, we need two things: the involvement of millions to make a mass movement, and the leverage to win back power from the capitalist class. The only way DSA is going to get what we need to win is by organizing as workers and uniting with organized labor, so we can attack the source of capitalists' power: their profits.
Labor unions represent the only organized force with the capacity and the leverage to win against capitalists outright. Millions of union members run a collective, dues-funded project to organize and fight for a better life for all working people. So this year, Atlanta DSA has prioritized building relationships with labor unions, educating our members and the public on the centrality of workplace organizing and the importance of determining our own path, independent of big-money donors and politicians.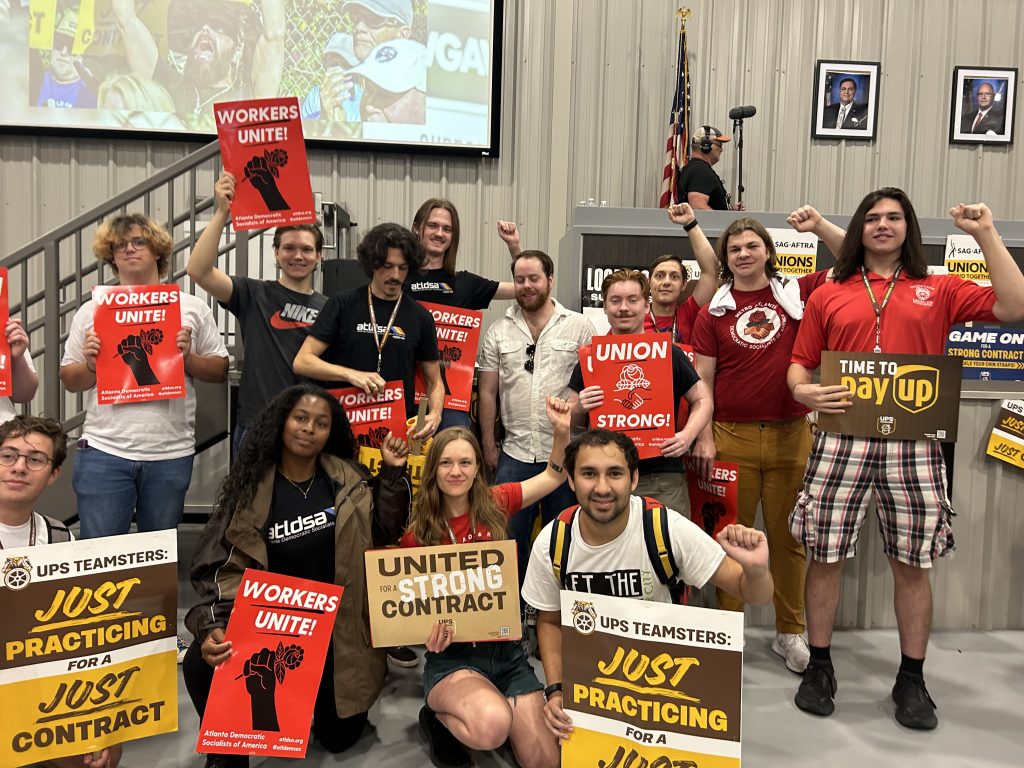 Most excitingly, with the United States having just experienced its third "Hot Labor Summer" in a row, our chapter has prioritized strike support. Following our solidarity work last year with workers at Nabisco, John Deere, and Starbucks, this summer Atlanta DSA democratically voted to prioritize supporting UPS Teamsters fighting to win higher wages and respect on the job in the largest private-sector contract this country has seen in decades. Atlanta DSA worked for months, in coordination with the DSA National Labor Commission, to show up for the UPS Teamsters. The Teamsters we supported organized to build strong shop-floor support for the contract fight, while the whole of our chapter has met with rank-and-file leaders to learn how we can best provide key support. We hosted educational panels, talked with and interviewed rank-and-file Teamsters, showed up to practice pickets, and canvassed to build community support for the contract fight. In the end, 86% of voting Teamsters approved the new contract, which included raises, air conditioning in trucks, and an end to two-tier jobs.This was only won through a concerted strike campaign that scared UPS into concessions to avoid responsibility for a costly strike.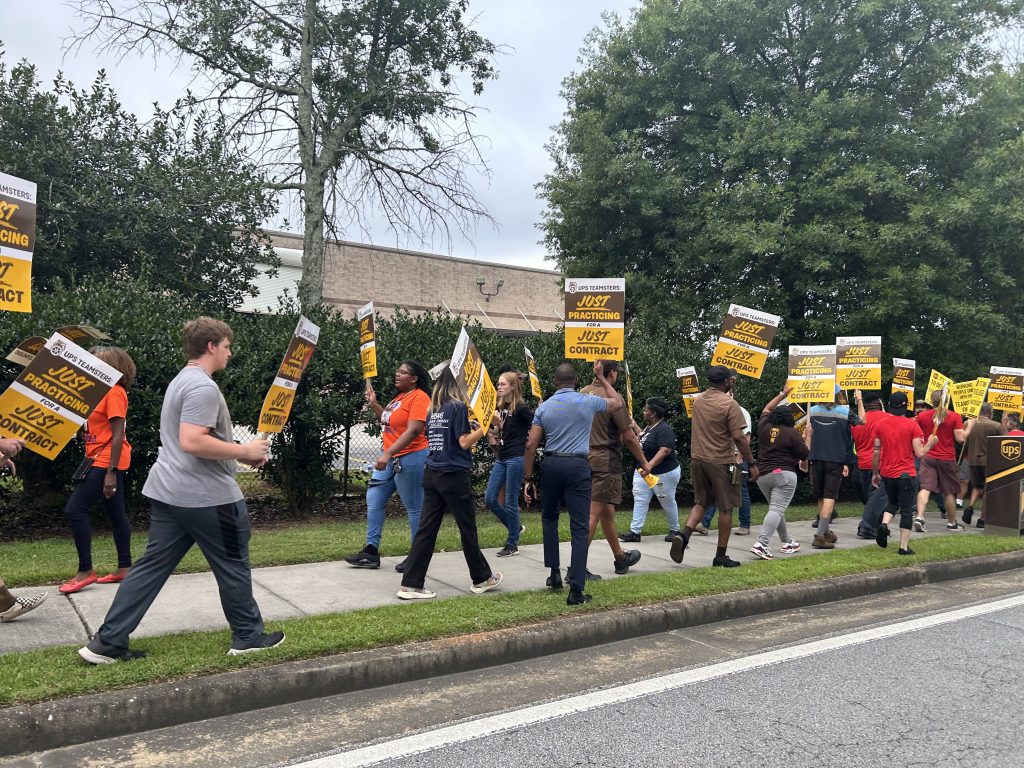 Our strike solidarity campaign provided an avenue for friends of labor from all across the Atlanta metro area to become involved, and we organized supporters across the community to understand the stakes of this fight. In a word, we've helped begin rebuilding the connections between labor unions and the communities they fight for in Atlanta. Now, with UAW Big 3 workers on strike across the country, we are also mobilizing to join workers picketing at the Chrysler parts distribution center in Morrow, GA.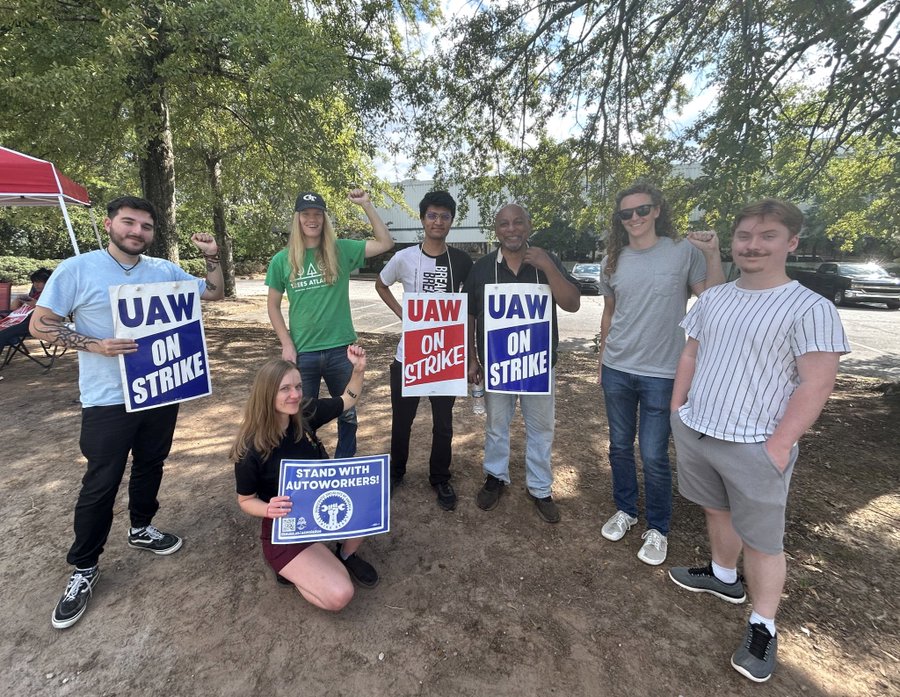 As our members gained experience and our organization gained credibility for the material solidarity we showed to Teamsters, Atlanta DSA's Labor Committee has worked hard to build positive relationships with other unions, both rank-and-file member-leaders and staff alike. While many unions are still struggling under the weight of repressive governments and hostile corporate management, it becomes a common refrain that "we need to organize our own members before we can devote resources to other groups". However, as socialists know, an injury to one is an injury to all. A strong labor movement is one that moves together, in solidarity with workers everywhere, because it makes us stronger in the long run. Capitalists love to divide and conquer, so when we can pull a variety of groups together to go to bat for the Teamsters,  Starbucks Workers United, United Campus Workers, and the railroad unions, we can show we are stronger than them.
As we've helped lay the groundwork for stronger community-labor connections, and a more coherent labor movement, Atlanta DSA is also providing support for workers looking for help organizing at work, even before they are ready to approach a union. We plan to encourage more of our members to volunteer and receive training with the Emergency Workers Organizing Committee (EWOC) (a joint effort between DSA's National Labor Commission and United Electrical Workers) and use those skills to support new organizing drives across Georgia, including food and retail service workers.
We also support our own members and allies through a monthly Workplace Organizing Roundtable. By providing a space for groups of workers from different industries to come together and talk shop, Atlanta DSA has deepened our institutional knowledge of the organizing terrains in various sectors of the economy. Education, tech, food service, manufacturing, and logistics workers share ideas and learn together, forming a nucleus of organizing knowledge so we can transform the struggle for workplace dignity and democracy.
Through these roundtables, members have been able to discuss methods and techniques for organizing, the history of different kinds of labor struggles, and our plans for organizing in our respective industries. In the coming months, we will expand and deepen our efforts so we can bring in even more people from around the Atlanta area and fight to create a powerful, democratic labor movement.
Just this last month, Atlanta DSA led and organized a labor contingent to the Atlanta Pride Parade, alongside the Atlanta-North Georgia Labor Council, Starbucks Workers United,  United Campus Workers, the Teamsters LGTBQ Caucus, Unite Here, AFA-CWA, IAM, and more organizations. As workers in the South, who are subject to a right-wing and repressive state government, it's important to not just build democratic and militant unions, but also progressive unions, willing to champion racial justice, trans rights, bodily autonomy, and more!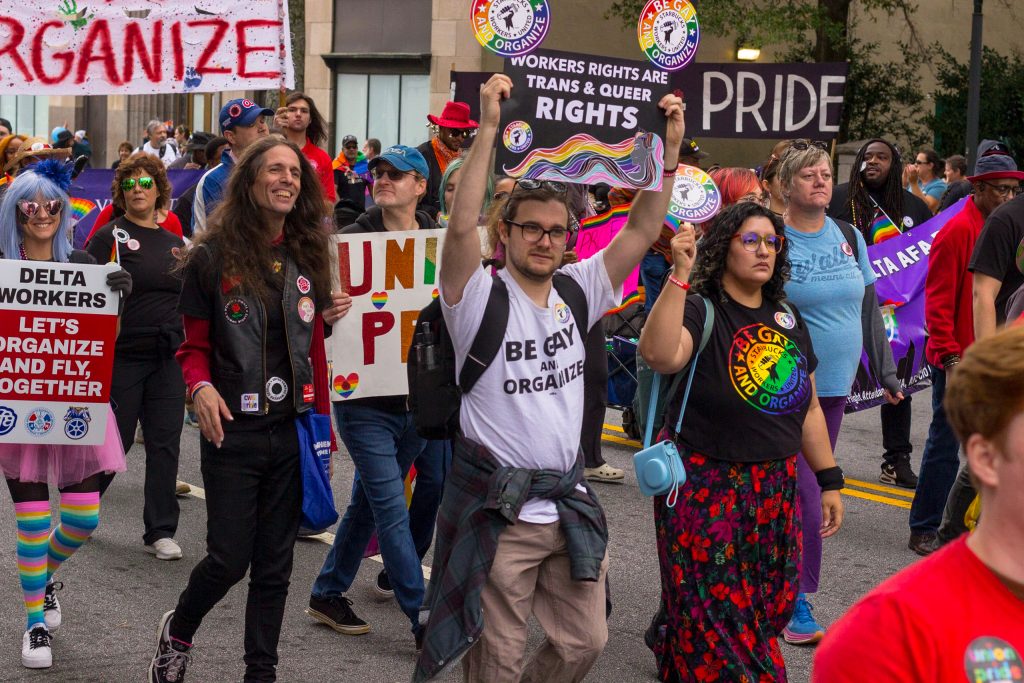 Atlanta DSA's labor work this year has laid a lot of groundwork that we can use to strengthen the organization of working people into a working class, capable of fighting for itself. We've brought together groups that haven't worked together in the past, beginning to heal the divides wrought by decades of neoliberal attacks on working people. DSA members have advocated for a more militant, democratic, and progressive labor movement in the Atlanta area – one that allows us all to fight for political and economic power, free from the influence of big money institutions that don't have our best interests at heart. Through our work, Atlanta DSA is helping to once more cohere a working class movement that can fight for all of us. It's exciting to be a part of, and you should be a part of it, too.
So what's next? Get involved in our labor work by joining a weekly meeting, checking out a monthly workplace roundtable, get organized with Emergency Workplace Organizing Committee (EWOC), and learn more about what we do!