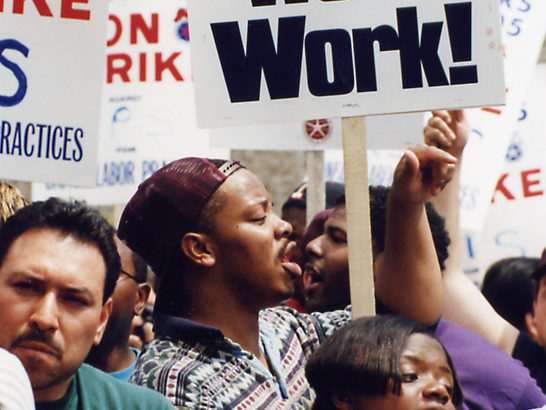 Many of us frequently interact with United Parcel Service (UPS) workers in our daily lives. You see them driving down your street in their emblematic brown trucks. You count on them to deliver birthday gifts to far-flung family members. You may even chit-chat with the UPS worker who regularly delivers packages to your door. UPS is the third largest company headquartered in Atlanta, and it employs nearly 400,000 essential workers who are responsible for transporting 25 million packages and documents daily, across 220 different countries and territories. Millions of us rely on the hard work of UPS drivers and warehouse workers. But did you know that these workers are currently gearing up for a critical contract fight to win better wages, hours, and respect on the job?
All 350,000 non-management UPS workers throughout the U.S. are covered under a national contract, known as the National Master Agreement (NMA), that the International Brotherhood of Teamsters (IBT) has with UPS. This contract governs their wages and working conditions. Some UPS workers — but not all! — are also covered by a local "supplement," which is a second contract negotiated by local or regional bargaining committees that often has stronger language than the NMA. So while all UPS Teamsters have some baseline protections, there is a lot of variation in the level of protection members receive depending on location. That's why it's crucial to have a strong NMA.
And guess what? The NMA is currently up for renegotiation, which is a huge opportunity for UPS Teamsters trying to strengthen their contract. It will expire in just a few months, on July 31, 2023. This time around, IBT is being led by a newly-elected coalition of militant reformers, including General President Sean O'Brien. They're done making concessions, and if UPS does not end two-tier driver jobs, raise pay for part-time workers, and give in on other key issues, the UPS Teamsters plan to strike nationwide on August 1, 2023.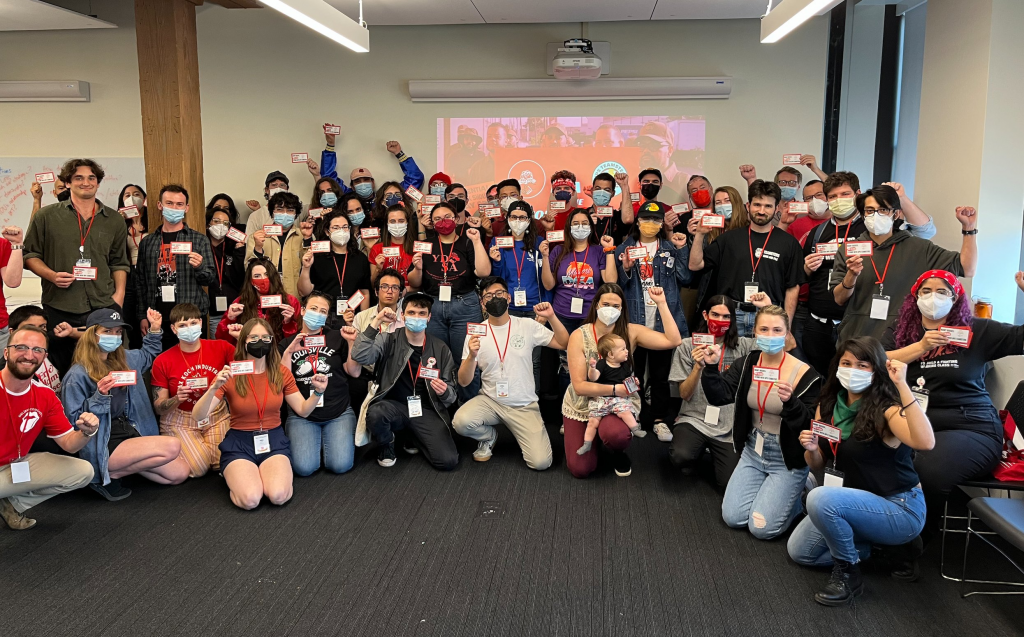 DSA is ready to go all in on this fight! Last weekend, DSA labor and electoral organizers from all over the country gathered in Chicago to announce that 71 and counting DSA electeds have signed on to support the UPS Teamsters this summer. Ahead of July 31, we're gathering the support of members, our coworkers, and the larger community to stand with UPS Teamsters on the picket line when the time comes. We're counting on YOU to get involved, sign the pledge, and take a moment to learn what this struggle is all about!
When was the last UPS Strike?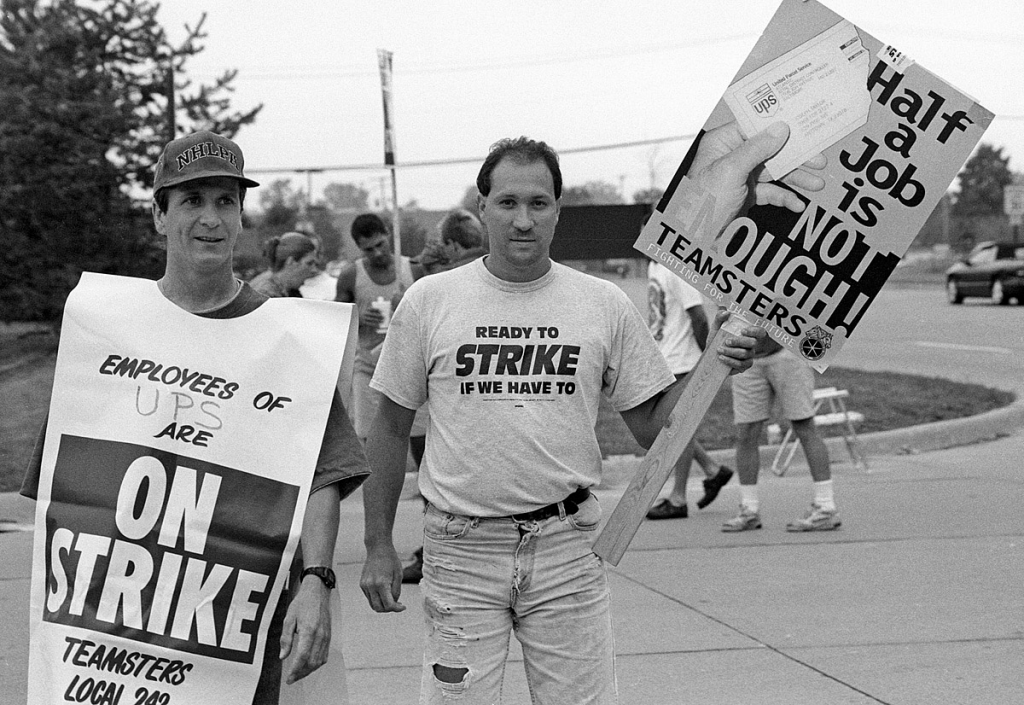 The last UPS Teamsters strike took place in August 1997, during which 185,000 UPS workers went on strike for a better contract. This was a pivotal moment for the U.S. labor movement. The strike lasted 15 days and cost UPS hundreds of millions of dollars. The company admitted that fears of even bigger losses led them to finally agree to IBT's demands. In other words, the Teamsters showed their company and the world that, when well-organized and well-supported, workers hold the power. IBT won pay increases for part-time workers and drivers, secure pension plans and increased benefits, the conversion of 10,000 part-time jobs into full-time ones, and more.
Strikes have always played a vital role in the American labor movement, but striking actions have declined greatly in this country over the last four decades. Data from The Bureau of Labor Statistics shows that 1,796,000 workers were involved in major work stoppages in 1974. That number hit a low in 2009 with just 12,500 workers participating in major work stoppages. Major strike activity saw a 35-year high in 2018 and 2019, according to Economic Policy Institute. Most recently, in 2022, 120,600 workers were involved in 23 major work stoppages, which was a nearly 50% increase from 2021. Though striking is becoming more popular and union approval rates are increasing in the U.S., UPS hasn't dealt with a strike in over 20 years. The company is likely unprepared, but the Teamsters aren't. IBT is ready to stand firm on its demands.
Teamsters' Contract Demands for UPS Workers
As members of DSA and the Atlanta community gear up to support UPS Teamsters in their contract fight, it's important to know what workers are fighting for so we can uplift their demands and spread the word! Here are a few of the most urgent issues that will decide if the Teamsters launch the largest strike in recent American history and why each demand is meaningful.
No more two-tiered driver classifications
The 22.4 full-time worker tier was created by the IBT's 2018 contract with UPS, which was negotiated by former IBT General President and business unionist, James Hoffa Jr. This tier is made up of mostly new drivers who do the same work as more senior drivers — classified as regular full-time package car drivers (RPCD). RPCD pay tops out at $41 per hour, but 22.4's pay ceiling is $6 per hour less. In addition to lower pay, 22.4s have much less control over their schedules than RPCDs, which leads to high turnover rates. 22.4 drivers deserve the same pay and protections as RPCDs.
Higher pay for part-time workers
Despite what you may assume based on how often you see UPS drivers out and about, most Teamsters at UPS are not drivers. Over half work inside distribution facilities, and many of those workers are part-time. These part-time workers play a vital role in making sure UPS runs smoothly, and they deserve to be compensated fairly for their significant contributions. Starting part-time pay must be increased to above $20 an hour and catch-up raises must be given to existing part-time employees.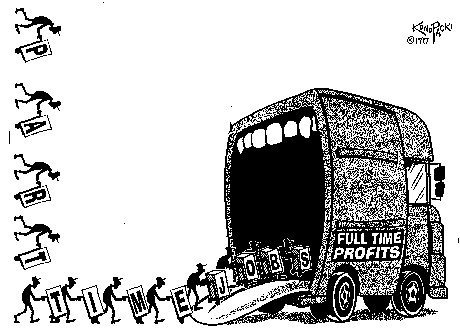 UPS must also end its use of Market Rate Adjustment pay discrimination against part-time workers. MRAs can take the form of hourly rate increases or weekly bonuses and can cover a whole geographic area, a single center, or just certain shifts. By using MRAs, UPS has raised the wages of some workers without implementing raises across the board. The use of MRAs divides unions by pitting senior workers against new hires and even members at one building against another.
More full-time jobs
UPS needs to create more full-time 22.3 jobs, which are inside jobs doing tasks like sorting packages, loading and unloading semi-trucks, and more for 8 or more hours a day. The many part-time workers who are so critical to how UPS runs should be afforded more opportunities for reliable, full-time work if they want it.
No more excessive overtime
Package drivers need stronger 9.5 rights, or the right to cap work at 9.5 hours, three times a week. All people deserve a life outside of work. At UPS, however, employees are often forced into working six days a week. Workers refer to this as the forced 6th punch. Workers who want overtime hours and pay should have the choice to pursue that, but it should be just that — a choice.
Job security for feeders and package drivers
Feeder drivers are usually workers who drive semi-trucks from warehouse to warehouse. UPS sometimes diverts this feeder work to nonunion carriers. It's time to put an end to the subcontracting of feeder work.
There must also be stronger protection for the jobs that are being eliminated by Access Point and Surepost. Access Points are local businesses that serve as drop-off and pick-up locations for people sending or receiving items through UPS. The company utilizes Access Point as a tactic to cut costs. Surepost is an economy service offered by UPS that delivers items through the USPS. Both render UPS drivers unnecessary, which cuts back on potential jobs.
Video camera and harassment protection
In recent months, there has been a push from UPS to install driver-facing cameras inside vehicles. The introduction of surveillance systems is made even more egregious by the fact that many company vehicles are not even properly outfitted with air conditioning, which has led to hospitalizations for drivers, and in one case, even death. Stronger language to protect workers from this kind of company harassment — including financial penalties against UPS for any violations — must be put in place.
Why Atlanta DSA stands with UPS Teamsters
As socialists, we're committed to standing with the UPS Teamsters every step along the way of their contract battle because we believe that building power in the workplace is essential to building a better, more democratic economy and society for all working people. The entire working class must stand together with rank-and-file UPS Teamsters in this historic fight to show large corporations like UPS that when workers overcome divisions and unite as a class, we win!
As this is the largest private sector contract in the nation, IBT's upcoming fight is sure to have a ripple effect in union organizing across the country. Workers make up the majority of the population and create all value in society, but in the U.S., we are highly unorganized with only 11% of U.S. workers represented by a union. To ensure the momentum continues, we should bring everyone into this campaign and work to elevate workers' demand in a way that helps grow class consciousness among all workers. This campaign is a crucial opportunity to win not just a great, hard-earned contract for UPS workers nationwide, but to send a message to the working class: strikes get the goods! If UPS refuses to concede to workers' demands and they decide to strike, workers far and wide will see in real-time the power they hold.
How to support UPS Workers
Just like the Teamsters, DSA is asking members and supporters to get STRIKE READY! Sign the Strike Ready pledge and commit to standing in solidarity with IBT UPS workers this summer as they prepare for the biggest potential strike this country has seen in decades. Get updates on upcoming #StrikeReady events this summer, including educational panels, picket line trainings, rallies, and phone banks. Plus, check out the information we've put together on the contract fight at atldsa.org/ups-solidarity.
Talk to your union members, coworkers, friends, family, and neighbors about the potential strike! Get them to sign the pledge, attend a phone bank, or join you on the picket line in August. When the working class stands together to fight, we win!
After you've committed to join striking workers on the picket line this summer, make sure to brush up on DSA's Picket Line Do's and Don't's to be prepared and helpful during the strike!
Finally, to get involved in DSA's strike solidarity and labor organizing work, get plugged in with our Labor Committee by emailing labor@atldsa.org.