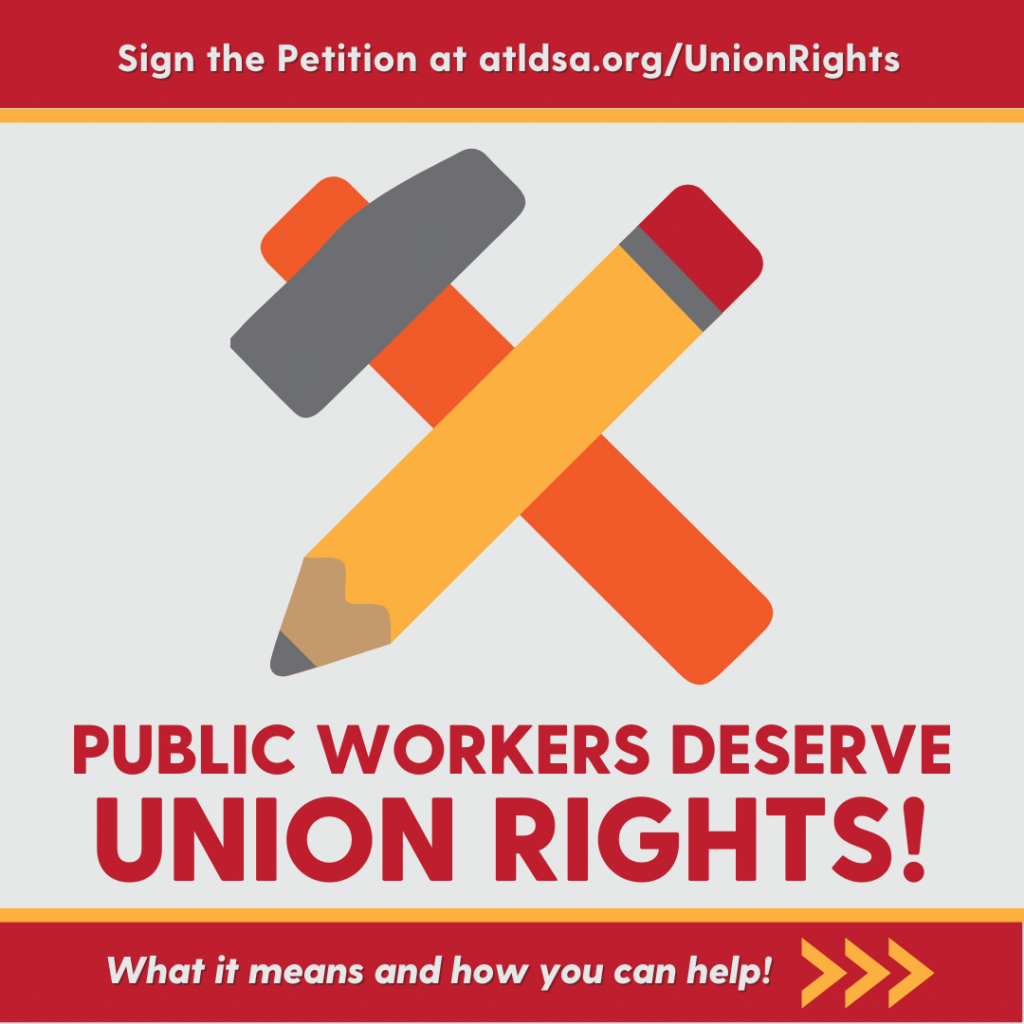 The new year brings new opportunities for workers to build power across the South. In Georgia specifically, one such significant opportunity lies in fighting for collective bargaining rights for public sector workers throughout the state. But what exactly does that mean and why is it so important?
Before we dive into that, we must first answer the question of what constitutes public sector work in Georgia. Public sector jobs are tax-payer-funded and service-driven. The most common examples are public school teachers and staff, firefighters, and healthcare workers, but public sector work is also in child care, social services, transportation, public utilities, sanitation, parks and recreation, environmental protection, libraries, museums, historical sites, and much more. Looking at that list, it's clear that public sector work plays a crucial role in making local communities function and thrive, and it's imperative that we empower these workers to have a democratic say in how their own workplaces operate.
Collective bargaining allows workers to negotiate their wages, hours, health benefits, and other workplace conditions. In other words, collective bargaining gives workers a seat at the table, so of course, it is vital to our goal as Socialists to win power back to working people. However, in Georgia, public sector workers are banned from bargaining a contract. Most private-sector worker unionization in the United States is overseen by the National Labor Relations Act (NLRB), but the legal scope of collective bargaining for state and local public sector workers falls to states and local authorities. Our state does permit public sector workers to form and join unions, but Georgia law prohibits those unions from bargaining on behalf of their members. That means that the state has total control over these workers' wages, health benefits, retirement funding, sick leave, and workplace health and safety.
Additionally, Georgia is a right-to-work state, which means workers cannot be required to join or pay union dues if their workplace is unionized. Without collective bargaining rights, unions have less power and therefore there is less of an incentive for workers to join, which only further diminishes unions' potential reach and strength. That's part of the reason why Georgia has the ninth-lowest percentage of unionized workers in the country, according to data from the Bureau of Labor Statistics. As Atlanta Civic Center recently put it, "About one in 10 U.S. workers is in a union. In Georgia, the rate is less than one in 20."
To fully legalize collective bargaining rights in Georgia, we need pro-labor state legislators to introduce and pass a bill that repeals and amends the sections of Georgia law denying public sector workers collective bargaining powers, like HB 1576 which was introduced last year but not passed. Even better would be a bill granting public sector workers the right to strike. Right now, under Georgia law, public employees cannot promote, encourage, or participate in any strike and will in fact be terminated if they do. But the right to strike is hugely important because as workers, our power comes from our labor. Therefore, withholding that labor is one of our strongest and most effective methods of control over our employment conditions.
While all workers deserve a seat at the table, Georgia's 680,000 public service workers have significant need for the power that would come with collective bargaining rights and the right to strike. The public sector in particular is largely made up of workers from historically marginalized and disadvantaged populations. According to a Georgia State University report, women have consistently made up a larger percentage of Georgia's state and local government employees over the last four decades, and there are more women working in the public sector in Georgia than in the private sector. Recent data from Morehouse College shows that more than 6 out of ten public sector employees in Georgia are women. Black workers are also more likely to be employed in the public sector both in our state and across the U.S. As the Economic Policy Institute reports, "Public-sector jobs are rungs to the middle class for Black workers, who often face labor market discrimination, especially in the private sector where employers may be less likely to follow standardized hiring and promotion practices."
Many public sector workers around the country are also underpaid. Nationally, 32.7% of state and local government employees are paid less than $20 an hour and 15.6% of the sector is paid less than $15 an hour, according to the Economic Policy Institute. In Georgia, that share is higher. Over 20% of Georgia's state and local government employees make less than $15 an hour. The right to collective bargaining is a recourse for change in this area and many others.
Collective bargaining provides an important fair wage premium for public sector workers. It ensures they earn as much as 20 percentage points higher than public workers in states where public collective bargaining is banned, per the Morehouse College report. And research published in the American Journal of Public Health has shown that workers represented by a collective bargaining agreement have higher living standards, and the benefits that workers reap from collective bargaining rights have been shown to spill over into their communities, improving public health and boosting civic engagement. For public sector work, which is based entirely in serving the public, those community benefits that come with collective bargaining rights are even more directly seen and widely felt. For example, One example of this is that higher wages for teachers can mean better school staffing, smaller classrooms, and thus better education for students. Similarly, better paid health care workers means quicker and improved care for patients and healthier communities. , which is, of course, In summary, Georgians have a lot to gain from standing with workers fighting for workplace democracy and in turn stronger public services for all! s a whole better for the community as a whole. All Georgians have a lot to gain from passing public sector collective bargaining in our state.
Currently, 26 states across the country allow public sector collective bargaining, and we can play a role in getting Georgia to join them. In the coming weeks, Atlanta DSA will be working closely with the United Campus Workers (UCW) of Georgia to push Georgia State House members to sign onto a bill to legalize public sector bargaining rights during 2023's fast-approaching legislative session, and we need your help!
Sign our petition in support of public sector bargaining and the right to strike for public sector employees, and reach out to your State Representatives to let them know this is an urgent issue! Sign up to join phone banking, text banking, and outreach events to promote awareness throughout our community and build support for the issue. Be sure to also share the petition with friends and family members, especially if they happen to be public sector workers. Finally, if you are a public sector worker, reach out to Atlanta DSA about organizing your workplace or getting involved with a union.
Note: Since the publishing of this article, SB 166 has officially been introduced to the Georgia State Senate! Write you legislators here and ask them to sponsor the bill.